Their rich creamy texture, total versatility, and unique flavour make it no secret as to why the avocado has become such a trendy fruit. Let's make it clear from the get-go that they're full of fat, but luckily for us, it's the heart-healthy fat that's actually pretty good for us in small amounts.
So now, let's take a look at the nutritional contents of social media's favourite food.
Nutrition Stats
Serving Size: 1 Avocado
228 calories

12g carbohydrates

2g protein

2g saturated fats

21g total fat

10g fibre

0g sugar

40mg magnesium

690mg potassium

12mg vitamin C

0.4mg vitamin B6
What are the health benefits?
All that fibre, good fat, and phytochemicals found in avocados do little miracles for our body. Eating them regularly can:
Improve heart health

– the high fibre content and unsaturated fats can prevent cardiovascular diseases from developing.

Promote bone, eye, and skin health

– the phytochemicals found in avocados can reduce inflammatory and oxidative stress.

Lower bad cholesterol

– the unsaturated fat can reduce LDL cholesterol.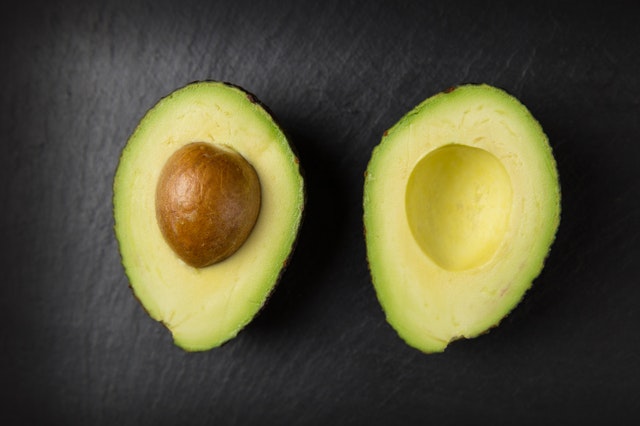 Can avocados make you gain weight?
While the fat content is high, it's a good fat that can actually promote weight loss if eaten in moderation. Plus its fibre and water contents help us feel fuller for longer meaning we're less likely to overeat or snack throughout the day.
How much can you eat and what with?
You shouldn't eat more than one avocado a day, and no more than 1/4 – 1/2 per meal or snack. It's important not to go overboard with them! In terms of how you can eat them, there are a number of unique ways;
Use it as a substitute for mayonnaise in sandwiches.

Chop it into chunks for your salad to add more texture and make it more filling.

Use it as a pesto and make some creamy pasta sauces.

Blend them in your smoothies.

Mash it on your breakfast toast and top with a poached egg.

Roll avocado slices in breadcrumbs and fry to make avo-fries (a not-so-healthy option but they taste fantastic!)
Can you eat the pit?
You might've heard that the pit contains lots of antioxidants and phytochemicals, but it is not recommended you eat them; there is very little research into whether they are entirely safe for human consumption.