There's something truly magnificent about East Asian food. Maybe it's the adventurous use of aromatic and bold spices like lemongrass, saffron, cumin, sesame oil, cinnamon, chilli, star anise, ginger… Maybe it's the use of hot, sweet, salty, sour and umami to enhance basic tastes and stimulate the palette. Or maybe it's the fresh ingredients courtesy of the market culture, or even the Southeast Asian way of making every dish look so appealing.
Whatever it is, there's no denying that a foodie trip around Southeast Asia sounds like a unmissable opportunity.
Here are my picks of the must-try food destinations…
Bangkok, Thailand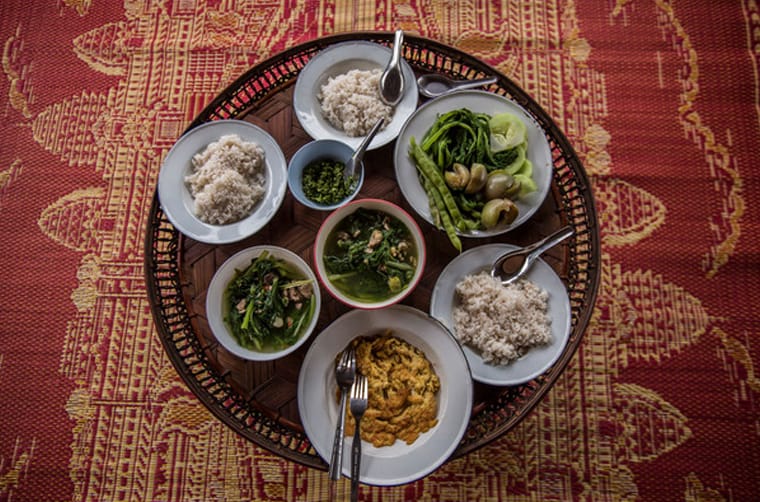 Many consider Bangkok to have some of the best street food in the world. After the sun goes down, small stands crowd the busy streets, filling the air with the smell of Thai favourites like egg noodles, grilled chicken and seafood. Adventurous eaters visiting Bangkok can indulge in options from scorpions and grasshoppers to silkworms and frogs. If you're looking for a fun dining experience, you can catch your own food at Ka-Tron, where waiters ride on unicycles to catapult grilled chicken right to your table. Bangkok
Must try dish: Pad Thai
Singapore 
Singapore is one of the cleanest cities in the world, so unlike Bangkok and Vietnam, street food is limited. That doesn't mean you can't find excellent, cheap food, however, as hawker centres (food courts) are the real deal here. In fact, two hawker centre food stalls were recently mentioned in the prestigious Michelin Guide!
Packed with restaurants specialising in signature dishes, you'll find everything from Chinese and Indian to Thai in hawker centres. Singaporean cuisine has a strong foreign influence, so it's a great place to try a variety of flavours.
Must try dish: Laksa 
Hanoi, Vietnam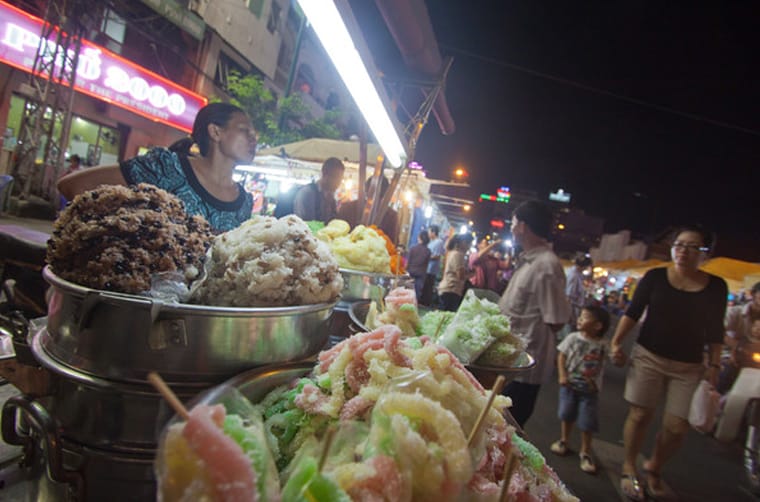 Northern Vietnamese food is considered the absolute paragon of Vietnamese cuisine, and there's a certain rivalry between Hanoians and their counterparts in Ho Chi Minh City. Hanoians take their food scene seriously and so they should – it's the birthplace of pho after all.
Venture deep into the Old Quarter's narrow streets and taste pho noodles, cha ca la vong, bun cha and trung vit lon (fertilised duck egg). With dishes starting from less than a dollar, you can afford to go crazy.
Must try dish: Pho Bac
Mongolia 
Mongolian food is influenced by the extreme climate, where winter temperatures can drop below -40 degrees celsius before peaking in summer at +50 degrees. It's almost impossible to grow anything and the country is landlocked, so pretty much all ingredients are imported.
So why would a foodie visit?
Mongolian food is heavily mutton-influenced, but it's what the Mongolians know and love. If you're lucky, you might get a Khorkhog Mongolian barbecue – lamb cooked inside a pot over an open fire with carrots, onions and potatoes. There's also no shortage of dumplings which are readily available everywhere.
Must try dish: Suutei tsai and byaslag (Mongolian tea and cheese) 
Bali, Indonesia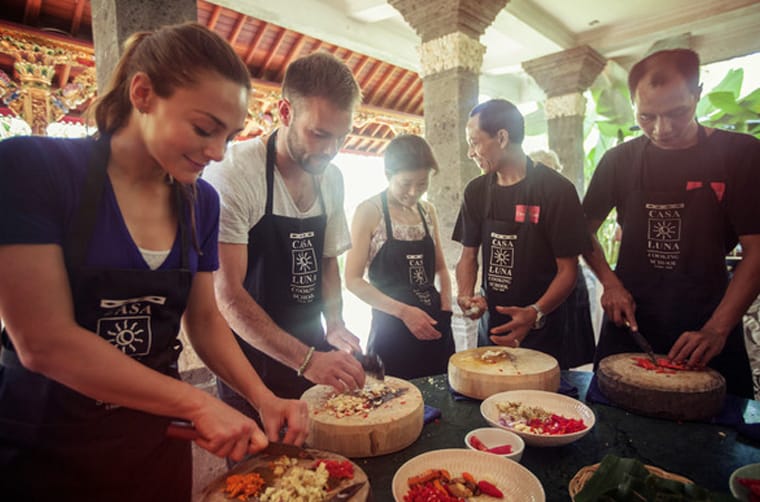 In 2017, Bali was crowned TripAdvisor's number one global destination, and with breathtaking beaches, verdant rice paddy fields, luxurious spa hotels, friendly people and great food, it's easy to see why.
Australians are influencing the Bali food scene with many of their top chefs packing up or adding to their Aussie restaurants and heading to Bali. Among these are MoVida, Sunday's Beach Club and Bikini, as well as the famous Potato Head, which is fast becoming 'the place to be' for soaking up local atmosphere and food. Outside of the big restaurants, you can pick up smoky, burnt-around-the-edges pork satay from street stalls, served on traditional rice cakes and smothered in spicy sweet sauce. For less than $5, you'll be quick to devour this tasty treat.
Must try dish: Nasi Goreng
Kuala Lumpur, Malaysia 
Malaysia is the dream destination for food lovers, home to three main demographic groups, Malayan, Chinese and Indian. The multicultural city of Kuala Lumpur means the food scene is diverse, tasty and cheap. You'll be spoilt for choice between typical Indian banana leaf restaurants, small Chinese joints, and various breakfast and lunch cafes to enjoy authentic roti and chai. Food markets and hawker centres are plentiful with countless things to explore and try.
Must try dish: Nasi Lemak and roti
Tokyo, Japan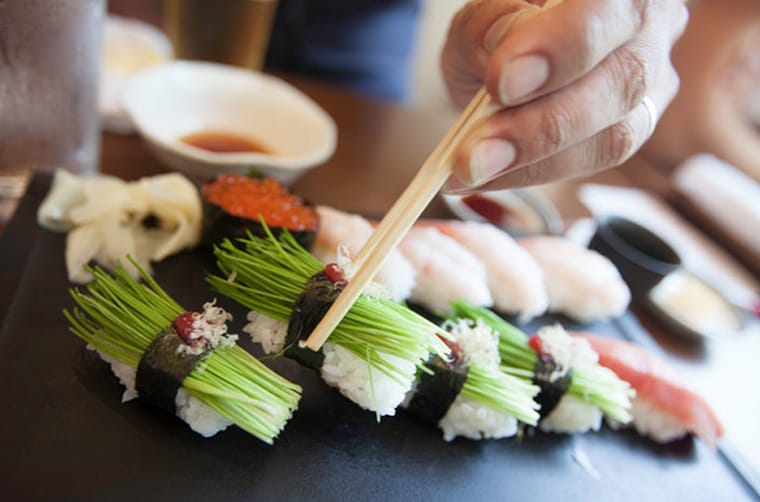 The Japanese capital of Tokyo has a mind-blowing 226 Michelin-star restaurants, leaving its nearest rival Paris well in its wake with just 94. You might think it's all kaiseki, sushi and teppanyaki, but think again. Tokyo is a powerhouse of fancy international hotels, humble alleyway "yokocho" noodle shops, kitschy cafes with neon-lit performers, and world-class ingredients in all seasons. Tokyo's central fish market, Tsukiji, is the largest fish market in the world, with more than 60,000 registered employees. Those who know the market well know that it's jam-packed with inexpensive food and irresistible beef stew.
Must try dish: Sushi
Seoul, South Korea
South Korean food is creative, innovative and kitschy. It is artisan cuisine both in flavour and presentation, and Seoul's dynamic food scene is a boon for curious taste buds. From traditional Korean barbecues to crisp rice wine, gourmands will love the eclectic East-meets-West offering's found in the Korean capital.
The Korean barbecue is a cultural pastime and you'll find galbi restaurants everywhere. Here you can cook your own meat to your liking and choose from the many different sides that sit alongside your table grill. Kimchi is the most quintessential Korean food, a national staple consisting of spicy fermented cabbage. Hundreds of varieties can be found in Seoul.
Must try dish: Bibimbap
A dish for every taste
South-East Asian food is unparalleled and encompasses a diverse array of countries, cultures and cuisines. Whether you're a fan of casual street food or a devout enthusiast of fine dining, you're in for treat wherever you go.