It's perhaps one of the most versatile meats available, and whether you're a regular when it comes to cooking chicken or it's your very first time, we've got plenty of 5 of the easiest ways to prepare this delicious poultry meat especially if you're looking to try something new on the same old bird.
Braised Chicken
For less tender, cheaper cuts of meat – braising is the best technique. It makes the meat simply fall off the bone, plus it's warming and full of flavour.
To braise chicken, simply brown your meat with some garlic and oil in a skillet, add vegetables of your choice (we like mushrooms), and then cover and cook for 5 minutes. Add some sherry (or white wine or water, if you'd prefer) and cook uncovered until the liquid is almost completely absorbed. Add a splash of soy sauce, and cook covered until the chicken is lovely and tender (about 20 minutes).
Roast Chicken
It's probably one of the most popular and traditional ways of cooking chicken; it's a satisfying dish that provides a tasty meal for the whole family.
To roast a chicken easily, just generously season a whole raw chicken with salt and pepper. Cover it loosely in tin foil, and roast at 180C /350F for 30 minutes. Remove from the oven and take off the foil before roasting for another 20 – 30 minutes.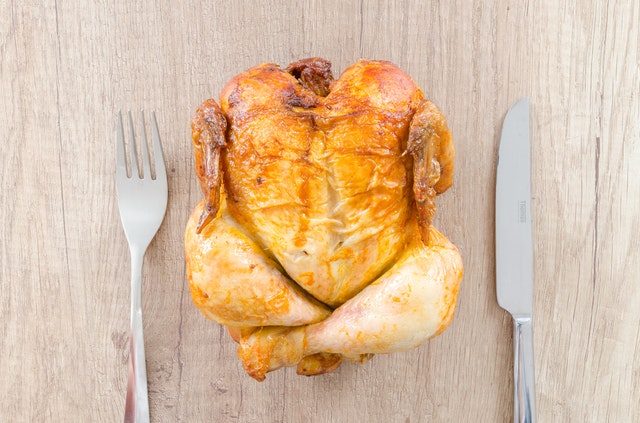 Baked Chicken
It might seem similar to roasting, but there are two key differences; baked chicken is prepared using small cuts such as legs, thighs, breast, or wings (whereas roast chicken is cooked whole). Baked chicken is also covered in seasoned flour for different flavours.
To easily bake chicken, rub your meat with olive oil and dredge with seasoned flour of your choice (optional) or simply season with salt and pepper. Place your meat in a roasting tin and wrap loosely with tin foil. Bake at 200C/390F for 20 – 25 minutes.
Poached Chicken
You can always rely on your meat to come out moist and juicy if it's poached! It's a technique that is naturally low in fat and you're also left with a delicious chicken broth. It works best for skinless, boneless breasts.
To poach chicken, cover the chicken breasts with cold water in a large saucepan and bring to the boil with various aromatics and seasoning of your choice (i.e. lemon slices and dried herbs) and then simmer for 15 minutes.
Grilled Chicken
Skinless, boneless breasts are most popular with grilling particularly during the warm summer months.
To grill chicken, drizzle your breasts with olive oil and season well according to your preferred taste. Using tongs, place your chicken on the grill and cook covered on high heat for 3 minutes. Flip the chicken over and cook for a further 3 minutes before reducing the heat to low and flipping again. Cook for another 6 minutes flipping the chicken once more half way through.