Christmas isn't complete without the traditional festive roast, but preparing a turkey and all the trimmings can be expensive, as well as time consuming. In this article, we show you how it's possible to create a cracking Christmas dinner: recipes and tips for a frugal three-course festive feast.
Festive Starter: Salmon Pate with Toast
Using salmon trimmings for this perfect pate will cost considerably less than smoked salmon slices. You can also use red or pink salmon from a tin. Stale bread is fine for toast too, if you have any to use up. Some green leaves and a lemon wedge will finish the presentation beautifully.
Ingredients:
200g salmon flaked or chopped finely
100g soft cream cheese
1 tbsp horseradish sauce
Squeeze of lemon juice
Seasoning
Mix the salmon, cheese and horseradish together. Add the lemon and season to taste. Serve chilled with toast triangles. Simple.
Festive Main: Traditional Turkey & All the Trimmings
We've used a skin-on turkey breast in this recipe, but you can replace it with a whole bird or a chicken if you prefer. A half breast (3lb) will feed 2-4 people; a whole (6-7lb) will stretch to 6-8 people.
Pat the turkey breast dry and place in a large roasting pan. Cut an onion into quarters and place it underneath the turkey. Season the meat, and rub butter into the skin. Place in a preheated oven (220 degrees C) and turn the heat immediately down to 190 degrees C. Cook the turkey according to its weight:
7-9lb – 190C – 2.5-3 hours
10-12lb – 190C – 3.5-4 hours
13-17lb – 19C – 4.5-5 hours
If the skin starts to brown before the turkey is cooked, cover with aluminium foil.
Once cooked, allow to rest loosely covered for 15-20 minute before carving.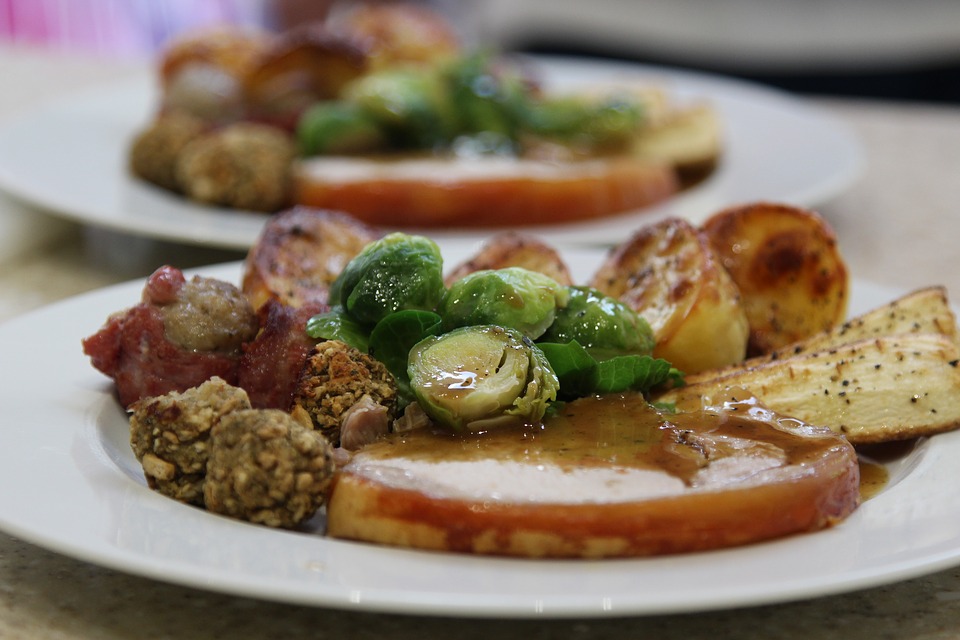 Par-boiling, draining and shaking the potatoes will give them a fluffy edge, which makes for perfect crunchy roasties. Once you've removed your turkey, pop your potatoes into the pan and give it a really good shake to coat them in the juices from the bird. Season and roast on the top shelf of your oven at 200 degrees C for around an hour.
Use a separate pan for your parsnips, which should be seasoned – add a drizzle of honey if you're feeling adventurous.
Making your own pigs in blankets is cheaper than buying them ready-made. Opt for skinny sausages and unsmoked back rashers: cut your sausages in half and wrap a half a slice of bacon round it. You can place these with your roast potatoes and they'll take around 30 minutes to cook.
Stuffing can be cheaply bought, but making your own with sausage-meat as a base is an excellent way of making your Christmas meat stretch further. Fry a large chopped onion in a little butter, then add to 1lb sausage-meat base. Mix with two crushed garlic cloves, 2 tbsp sage and 1oz breadcrumbs (grated stale bread is perfect) plus seasoning, and you're ready to pop it into the oven. Either roll it into balls or spread it in a greased, ovenproof dish. Bake for 30 minutes at 200 degrees C until golden brown and cooked through. You could also add any of the following: dried cranberries, softened celery, cooked bacon pieces, walnuts, apricot pieces… it's up to you.
Steaming your vegetables will not only lock in the nutrients, but will give you a good base of vegetable water for your gravy. Carrots, broccoli, cauliflower, peas, the more the merrier!
For a really flavoursome gravy, pour your vegetable water into the roasting pan and add a stock cube. Place over your hob burners and use a fish slice to loosen what's at the bottom of the pan. Add boiling water and more stock cubes to make sufficient gravy for everyone at the table. To thicken the gravy, mix cornflour or flour with a little cold water into a paste and add to the pan, stirring well.
Festive Pudding: Christmas Strudel 
You can buy a Christmas pudding reasonably from most supermarkets, but if you fancy something a little different, try a Christmas Strudel. This can also be served cold as an alternative to mince pies – if there's any left!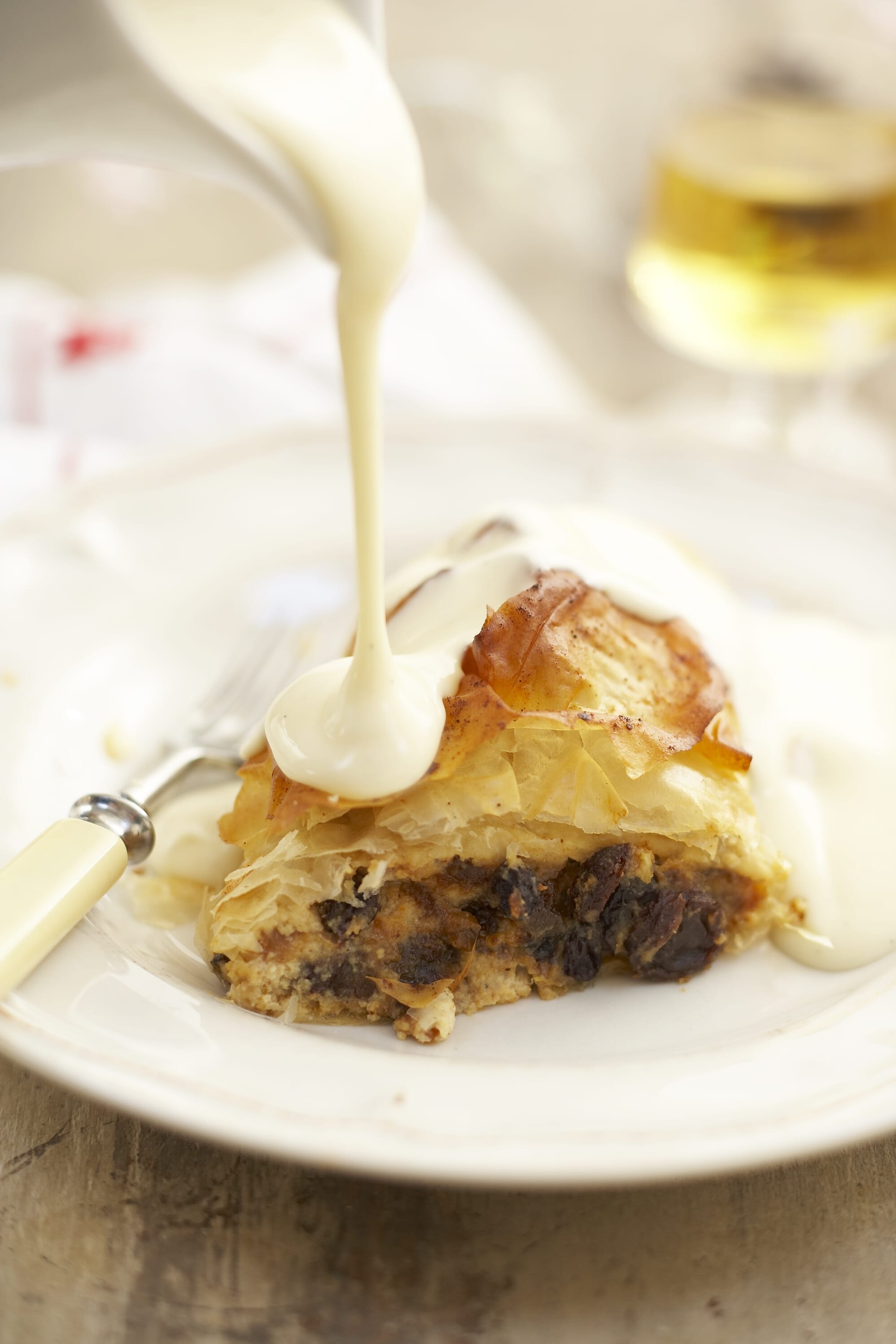 Ingredients:
Jar of mincemeat (own brand or value is fine).
Store cupboard search results: chopped nuts; juice and zest of citrus fruit; pinches of nutmeg, mixed spice, cinnamon; grated apple, dried cranberries; chopped apricots; a dash of your favourite tipple – brandy, Amaretto, rum.
300g+ puff pastry
Directions:
Mix together your mincemeat with whatever you want to add – there's no hard and fast rule to adding a touch of homemade taste.
Roll out your pastry into a rectangle and place your mincemeat mix into the middle third of the pastry. Fold the sides up, and prick the top. For added crunch, sprinkle sugar on the top.
Bake for 25-30 minutes, 180 degrees C, or until the pastry is golden brown and cooked through.
Serve immediately with custard, ice-cream or cream.
Tips
Before you shop, check your cupboards – you never know what you'll find! A squeeze of honey to pep up those parsnips: some nuts or a citrus fruit to make your mincemeat amazing.
Bigger birds cost more up front, but you'll get more meals from the meat, and you can boil the cooked carcass to make a tasty soup or stew.
Make your fowl go further with a sausage-meat stuffing.
Chicken is a tasty alternative to turkey, and less expensive, or you could use turkey breasts to minimise waste.
Make your own – it takes a little more time, but is worth the effort, and is economical too.
Prep it yourself – buy vegetables that need cleaning and peeling, rather than ready-to-use. Stick on a festive Christmas film and get into the spirit while you're sorting those sprouts.
Written by Kelly Regan-Mears.