The highly anticipated KFC Vegan Burger returns to 750 restaurants across the UK from 4th January, 2021
The nationwide return comes after the surprising news that animal rights organisation PETA crowned KFC with the Best Vegan Chicken Burger award.
This Veganuary KFC are taking it back to where it all ve-gan. *Trumpets please* PETA has awarded KFC with the title of Best Vegan Chicken Burger and it will officially return to 750 restaurants from January 4th.  Looks like 2021 is going to be a better year after all…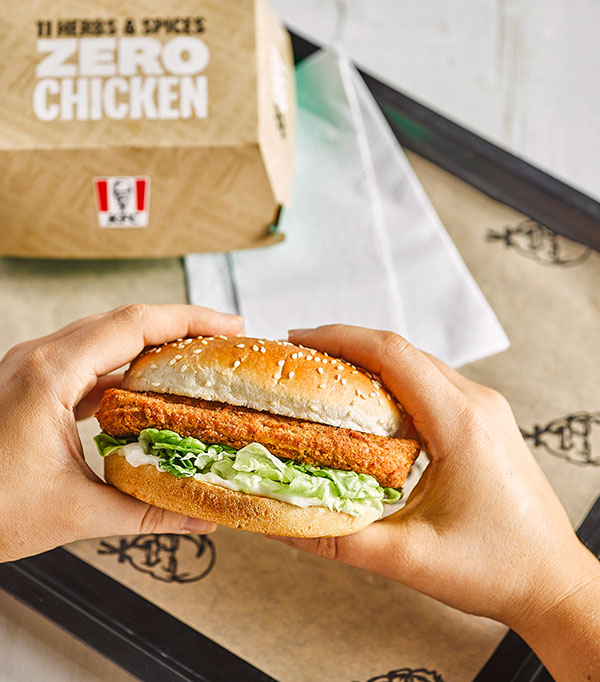 With its bespoke Quorn™ fillet coated in the Colonel's iconic Original Recipe herbs and spices, topped with fresh iceberg lettuce, creamy vegan mayo and housed in a soft glazed bun, this meat-free option is a game changer. It's the one that started it all and is back to surprise and delight Vegans, Vegetarians, Flexitarians, Pescatarians, Pollotarian (yep, that's someone who eats poultry) – all kinds of tarians!
So, whether it's a lifestyle choice, you're partaking in Veganuary or just feeling a bit flexy, now is the time to try meat-free. After all, the KFC Vegan Burger is kind of a big deal. That's why it was recognised by PETA with an award for the Best Vegan Chicken.
Get a taste of the iconic Original Recipe flavour, meat-free priced from just £3.99. It's available at KFC restaurants, including takeaway, drive-thru and via Mobile ordering. What are you waiting for?
To see where the Vegan Burger will be returning visit www.kfc.co.uk
The Vegan Burger will be returning to menus from 4th Jan – 28th Feb, 2021.
---
About KFC:
In 1952 Colonel Harland Sanders opened the first KFC restaurant in Utah. Since then, his perfectly crafted Original Recipe chicken and its secret recipe of 11 herbs and spices has become famous all over the world, and today we have over 900 restaurants across the UK and Ireland.
The Colonel was all about doing things the right way. That means our chicken is delivered fresh from farm to restaurant in 48 hours. It's prepared carefully by hand in-restaurant by trained cooks, using the very best chicken reared to strict welfare standards. In July 2019 we took the next big step in our welfare journey and signed up to the Better Chicken Commitment, a set of six criteria that have been designed to improve the lives of all chickens within the KFC supply chain, by 2026. That's what makes our food so finger lickin' good.