Valentine's Day this year, like so many other occasions, will be very different from what we're used to. But that doesn't mean you can't recreate a romantic meal for two from the comfort of your own home.  
To help make Valentine's Day a night to remember, Rebecca Snowden, Interior Style Advisor at Furniture And Choice, alongside a leading Michelin starred front of house manager, reveal how to create a romantic, Michelin star worthy dinner.  
Valentine's Day | Get the lighting right 
Rebecca says: "Candles go hand-in-hand with romance thanks to the ambience they create when the lights are turned down low. Placing as many as is safe around the dining room and on the table itself will help create a lovely atmosphere." 
Dimitri Marqueteau, Front of House Manager at Michelin Starred restaurant Bohemia, adds: "For a romantic evening, don't forget candles, but not a scented one as this could distract from the food. The light from candles rather than harsh light from modern bulbs will set the scene and bring a warmth to the room." 
Pay attention to the little things 
Achieving a Michelin star involves painstaking judging, which means every tiny detail needs to be just right. When it comes to setting your table, Dimitri advises: "White tablecloths are a must to create that special feeling and they must be creaseless. We achieve this by re-ironing them when laid on the table, it is the small attention to detail that will be noticed on special occasions. All cutlery should be hand polished and placed perfectly on the table."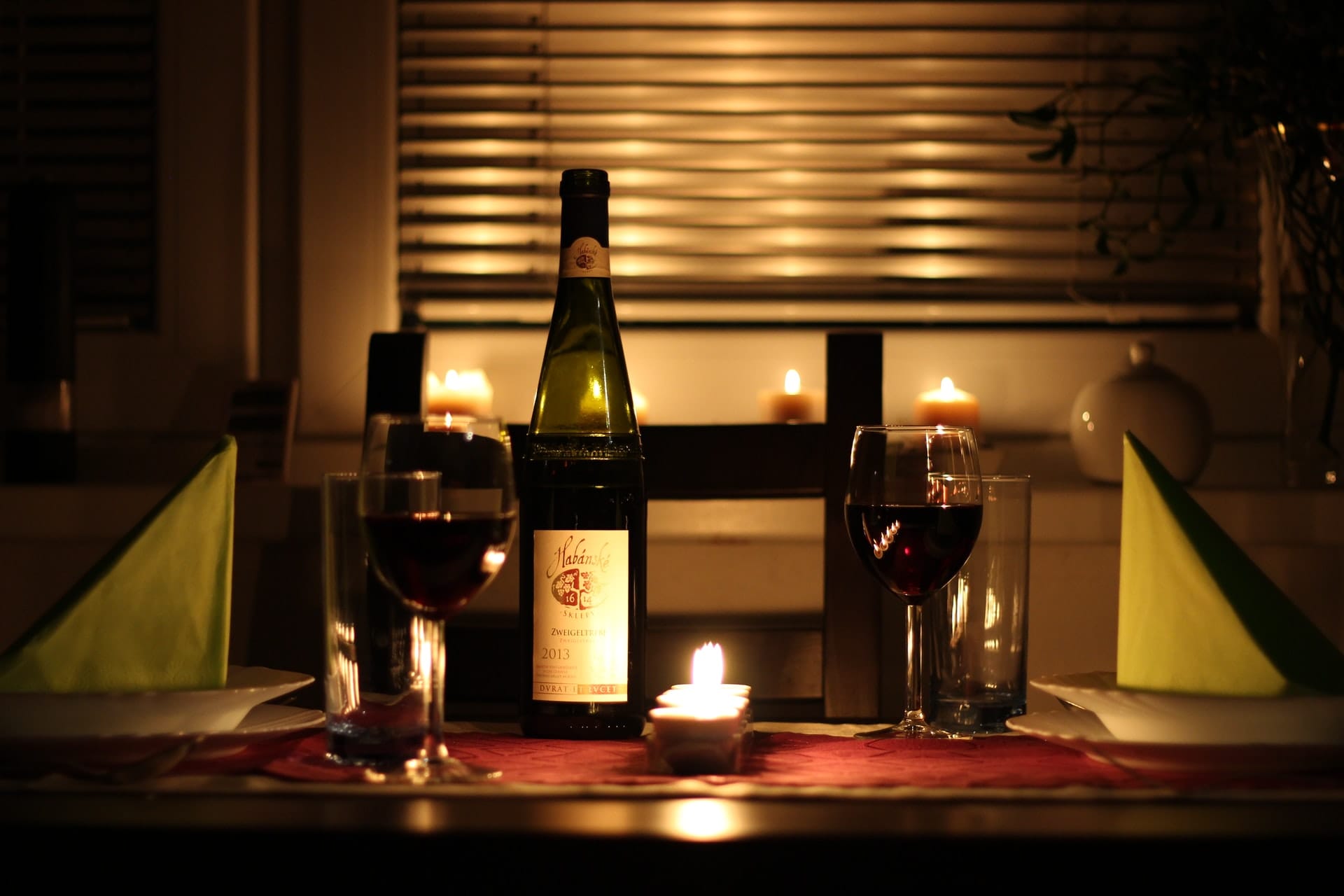 Achieving an elegant dining table set-up needn't be complicated but it can make all the difference when it comes to creating a cosy and romantic atmosphere. Rebecca advises: "When it comes to setting the table, keeping it simple is key for an elegant feel. Avoid clutter in the room and try not to overcrowd the table so you have plenty of space while dining. In particular, steer clear of any statement centrepieces, as these can easily get in the way of you both making eye contact, or perhaps holding hands across the table."  
Get your pre-dinner drinks just right 
To get you in the mood, Dimitri advises: "Pre-dinner drinks are the perfect way to set the mood. For romantic meals, we always recommend starting with a Lanique Rose Fizz made with Lanique – Spirit of Rose, distilled from rose petals, topped up with Prosecco or Champagne. Valentine's is definitely the evening to drink better rather than more, so select wines you know you both like and push the boat out a bit price wise, to really feel a bit special." 
Minimise your kitchen time
Nothing kills romance quite like having to run to and from the kitchen throughout the meal. Dimitri advises: "Ensure the food you select is easy to prepare or can be prepared in advance as you don't want to have to be getting up and cooking all night, rather than being able to talk and laugh together. Consider the finish at home meal kits from top restaurants, to ensure the food is special, but simple to prepare so you and your partner can both enjoy your whole evening together. 
If you're not spending Valentine's Day with your partner, there is no need to miss out on a romantic evening. Rebecca offers her top tips on how to celebrate the season of love even if you can't be physically together: "Valentine's Day does not have to be just another day. Given the difficult times the country is facing, there is no better time to find the joy in little things and Valentine's Day is the perfect excuse to dress up and sit down to a lovingly cooked meal.  
 "Of course, there will be many people across the country who can't spend Valentine's with their loved one this year. There are so many ways to connect virtually now to still make the most of the day, such as taking the time to cook and eat together over a video call, creating a shared playlist to listen to, or watching a movie together on a platform like Netflix Party.  
 "We hope these tips have got you in the mood for a romantic evening every Michelin starred restaurant would be proud of and have inspired you to do something different this Valentine's Day. Whether you're spending it with your loved one, family or even friends, this is an opportunity to feel connected and keep spirits high."