Celebrate the Queen's Platinum Jubilee with these best of British vegan canapés
Whether you're a passionate royalist or not, we are all looking forward to the extended bank holiday and indulging in some classic British treats but making them vegan friendly!
With nearly a quarter of the UK population following either a vegan or vegetarian diet, seasoning brand Yondu, has created the ultimate plant-based canapé options which are the perfect addition to any street party or picnic.
Yondu Vegetable Umami is a plant-based, all-purpose seasoning that adds a moorish depth and encourages its users to celebrate 'The Joy of Veg'. Its versatility is well recognised, and the product has the ability to enhance the taste of a wide variety of cuisines.
The recipes include a vegan twist on the classic jubilee dish; coronation chickpeas whereby the meatiness of the chicken is replaced by the depth of umami. Jaume Biarnes, Director of Yondu Culinary Studio in New York City has also created a pea roll which takes the iconic mushy pea and gives it a minty upgrade encased in pastry – set to rival any sausage roll!
Coronation chickpeas
A plant-based version of the dish originally created for Queen Elizabeth II's coronation which is fit for modern times. To be served with lettuce or as a filling for sandwiches or jacket potatoes.
Total time: 20 minutes
Servers: 2
Ingredients:
400g chickpeas in water (save the water)
1 carrot, peeled and shredded
2 Tbsp mango chutney
2 Tbsp sultanas
1 Tbsp Yondu vegetable umami
2 Tsp curry powder
4 Tbsp chickpea mayonnaise (can be shop-bought or homemade – recipe below)
Chickpea Mayonnaise ingredients:
50ml of chickpea water (aquafaba)
2 Tsp Yondu vegetable umami
1 Tsp mustard
1 Tsp apple cider vinegar
250ml vegetable oil
Recipe:
To make the mayonnaise, combine chickpea water, Yondu, mustard and apple cider vinegar in a jar. Using an immersion blender, start adding vegetable oil slowly. Whilst adding the oil, move the immersion blender up and down until you get the desired thick consistency.
In a bowl, combine the chickpeas, carrot, mango chutney, sultanas, Yondu, curry powder and mayonnaise. Mix all well together and serve cold.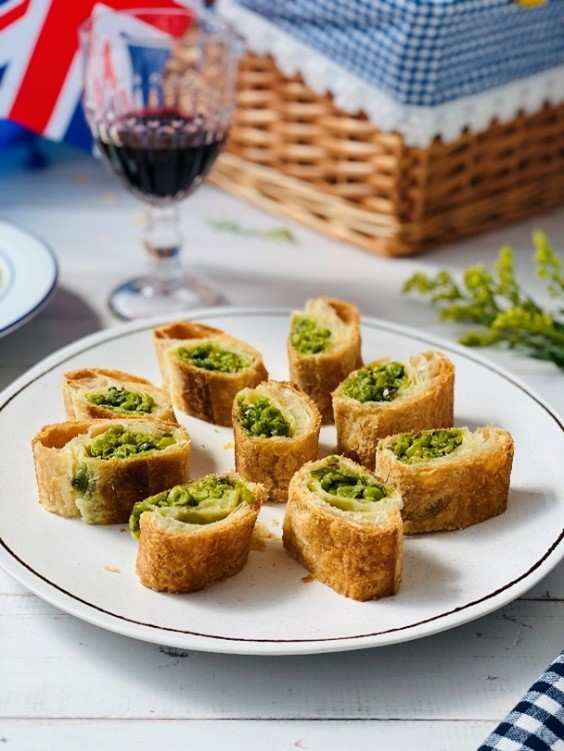 Green pea and mint rolls
A vibrant seasonal dish which elevates traditional British flavours and encases them in a delicate and flaky pastry which is perfectly portable for Jubilee celebrations.
Total time: 40 minutes
Serves: 4
Ingredients:
1 sheet puff pastry (250g)
200g green peas (thawed if frozen)
1 Tbsp Yondu vegetable umami
1 Tbsp Olive Oil
1 Tbsp Corn Starch
3 Spring Onions, chopped
5-8 mint leaves, chopped
Freshly ground black pepper
Recipe:
Preheat the oven to 200C.
In a bowl, combine green peas, Yondu and olive oil. Partially mash these peas with a fork, making sure some remain entire.
Add corn starch, green onions, fresh mint and black pepper to the pea mixture and stir all together.
Using a rolling pin, roll out the sheet of puff pastry until it is about 0.5cm thick.
Cut the pastry into two equal pieces – approximately 40cm x 10cm.
Divide the pea filling into half and place down the middle of each sheet of pastry.
Roll the pastry tightly over the filling to form a long roll.
Place both rolls on a baking tray with parchment.
Bake in the oven for 25 minutes or until puffed and golden brown.
Allow to cool completely before cutting into 2-3cm segments with a serrated knife.
---
Yondu is available to purchase via its UK website and Amazon, retailing at £4.48 for 150ml and £6.88 for 275ml. Visit www.yondu.co.uk/recipes/ for cooking inspiration.
Follow the brand on Instagram: @yondu.uk and Facebook: @yondu.uk.