What's even more fun than finding an amazing recipe to follow? Finding an amazing recipe by a celebrity chef you used to watch on TV! Longtime Food Network lovers will remember Chef George Duran, host of the shows Ham on the Street and The Secret Life of…, as well as The Ultimate Cake Off on TLC. Culinarily educated in Paris, France, it goes without saying that George knows food. Even better for the non-chefs of us out there, George knows how to make food that tastes gourmet, but doesn't take a Paris culinary education to achieve, such as his Roasted Cauliflower with Turmeric Tahini Sauce.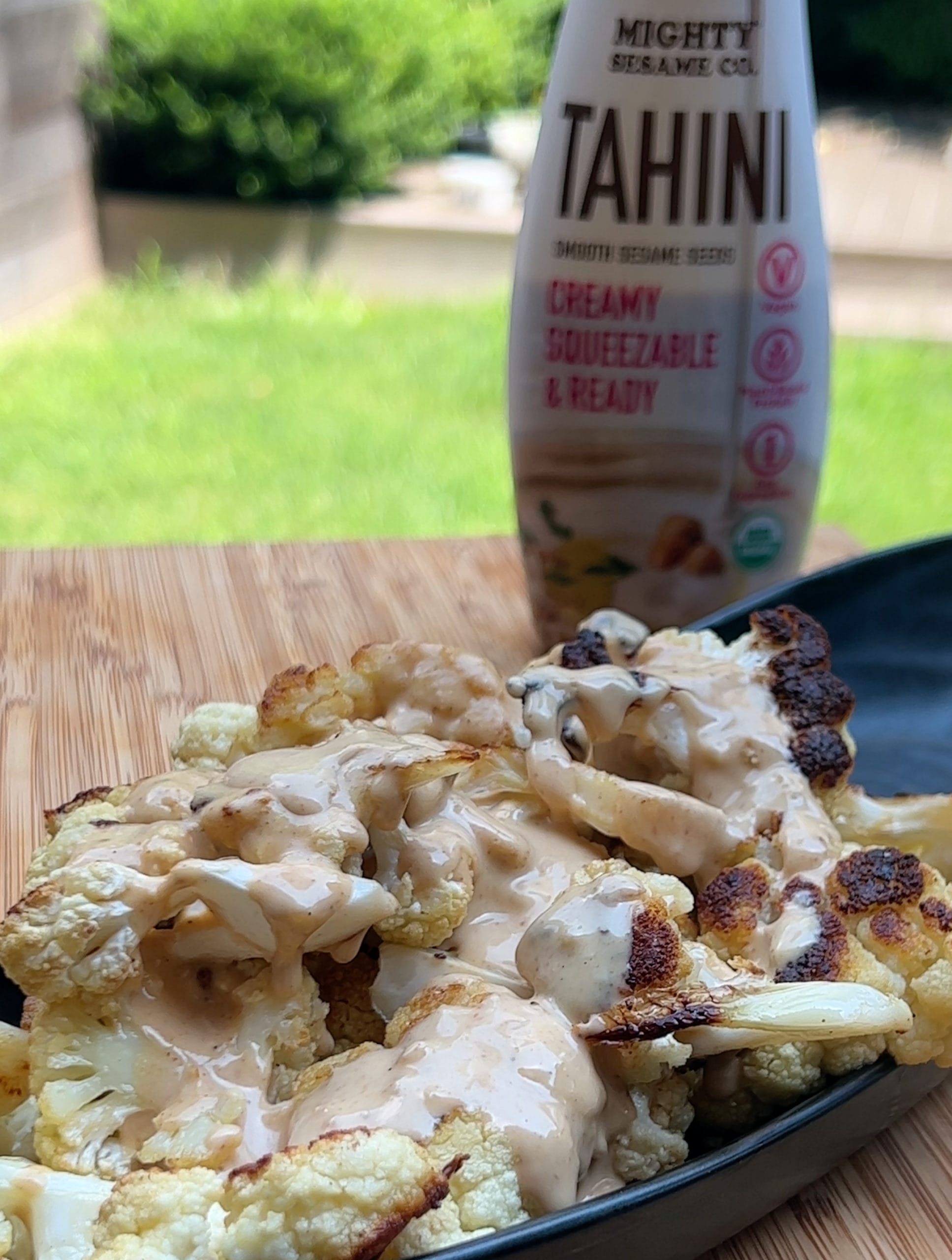 The Turmeric Tahini Sauce is the real star of the show in this recipe, and is made with all-natural Mighty Sesame organic tahini. George loves Mighty Sesame because it is vegan, gluten-free, dairy-free, kosher, halal and keto friendly, and comes in an easy-squeeze bottle, which he greatly prefers over the tubs tahini is usually packaged in. You can learn about Mighty Sesame Co., their sustainability practices, and find their range of products and retail locations at www.mightysesameco.com.
To make meal prep quicker and easier, George also chooses Dorot Gardens frozen crushed garlic. Frozen herbs are great to have in your kitchen because you always have herbs with full, fresh flavor and nutrition that don't lose potency over time. Dorot Gardens herbs are super easy, too; simply pop out a frozen cube of your favorite spice and add it to your recipe. Plus, they're vegan, kosher, halal, non-GMO, and free from gluten, dairy, soy, nuts, and artificial preservatives and ingredients. You can find retail locations and the full range of frozen herbs at www.dorotgardens.com.
If you're ready for a dish with maximum flavor and minimal effort, keep reading!
What You Need to Start
1 head cauliflower, cut into pieces

Olive oil
Tahini Sauce Ingredients
3 cubes Dorot Gardens frozen crushed garlic

1 cup Mighty Sesame organic tahini

Juice of half a lemon

1 tbsp honey

3 tbsp olive oil

1 tsp salt

½ tsp ground pepper

1 tsp turmeric 

1 tsp paprika

Water, as needed to thin out sauce
Directions
Preheat oven to 450°F. Drizzle cauliflower with olive oil and roast in a baking dish for 25-30 minutes until golden brown.

In the meantime, whisk all the sauce ingredients and add water until you achieve a creamy consistency.

Once cooked, remove cauliflower and drizzle with tahini sauce. Serve with more sauce on the side.
Makes 4 servings.