Minimum effort and cleanup, maximum flavour! Put down the colander, because you're not going to need it for these deliciously simple one-pot-pasta dishes. These dinners require fewer dishes and less fuss, and you don't even need to pre-cook the pasta – that's one less pan to worry about.
Spinach & Artichoke Wonderpot
Serves: 6
Ingredients
220g mushrooms, thinly sliced
4 garlic cloves, minced
300g artichoke hearts, roughly chopped
1 medium onion, thinly sliced 
5 cups vegetable broth
340g fettuccine
2 tablespoons olive oil
1 teaspoon dried oregano
1/2 teaspoon dried thyme
110g frozen spinach, chopped
salt & pepper seasoning
Instructions
In a large pot, add the olive oil, broth, mushrooms, onions, artichoke hearts, and garlic to a large pot. Break the dry fettuccine in half and add to pot with the thyme, oregano, and seasoning. Make sure the broth is covering all the ingredients. Pop a lid on the pot and bring it to the boil over high heat. 

Stir the pot to prevent the pasta from sticking, and turn the heat down to a low simmer. Put the lid back on and simmer for 10 – 15 minutes (until pasta is tender and liquid has absorbed). Stir occasionally. Add the frozen spinach and stir to break up lumps. Once cooked, serve immediately.
Bucatini Puttanesca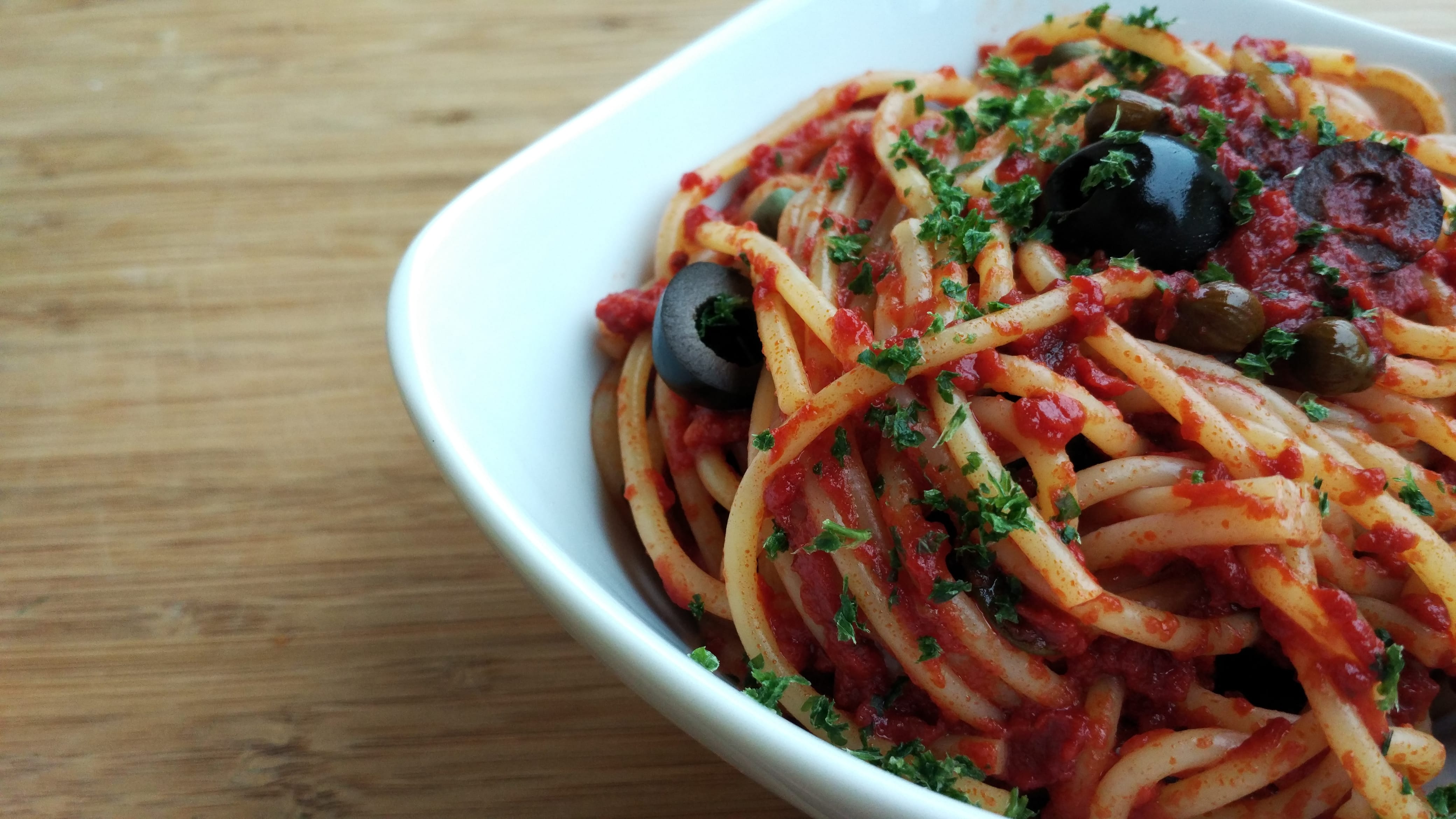 Serves: 4
Ingredients
6 garlic cloves
4 anchovy fillets
1/4 cup extra-virgin olive oil
1 teaspoon crushed red pepper
4 cups chicken stock
340g bucatini
3 tablespoons tomato purée
3 cans canned tomatoes
1/4 fresh basil, chopped
1/4 fresh parsley, chopped
24 pitted olives
3 tablespoons capers
Instructions
Over medium heat, heat a large high-sided sauté pan. Add oil to the pan and then add anchovies, garlic, oregano, and red pepper. Cook for two minutes while stirring constantly to break apart the anchovies. Add the pasta and chicken stock and bring to a boil. Cook for 10 – 12 minutes while stirring occasionally. Add the tomato purée and the tomatoes and cook for a further 3 minutes (until pasta is tender). Remove from the heat, add the remaining images, and toss before serving.
Cherry Tomato & Basil Pasta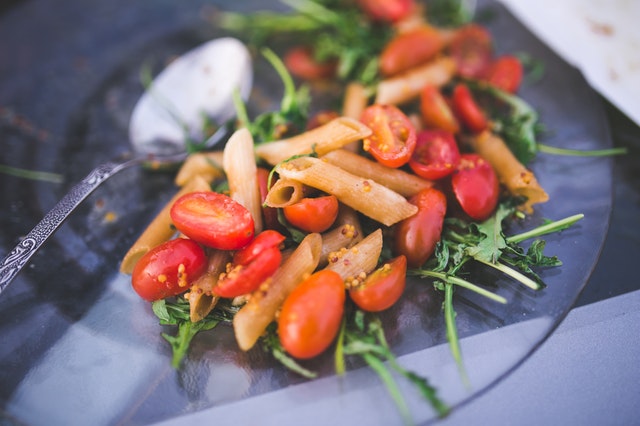 Serves: 4
Ingredients
340g linguine
340g cherry tomatoes, halved
1 onion, sliced thinly 
1/2 teaspoon red-pepper flakes
6 cloves garlic, minced
3 tablespoons olive oil
2 sprigs basil, plus extra for garnish
4 1/2 cups water
grated Parmesan, for serving
salt & pepper seasoning
Instructions
In a large saucepan/skillet, combine the tomatoes, pasta, garlic, onion, red-pepper flakes, oil, basil, and water. Season with salt and pepper. Bring the mixture to a boil over high heat and continue boiling and turning the pasta until it's tender and the water evaporates (about 9 minutes).
Season with salt and pepper to taste. Divide between serving bowls and garnish with the basil. Serve with Parmesan.
Chicken Stroganoff
Ingredients
Serves: 4
1 teaspoon kosher salt
2 tablespoons olive oil
1 pound chicken breast tenders, cut into small pieces
1 teaspoon black pepper
1 tablespoon flour
220g mushrooms, sliced
1 tablespoon garlic
1/2 cup dry white wine
2 teaspoons fresh thyme, chopped
200g thick egg noodles
1/2 cup sour cream
Instructions
In a large saucepan, heat 1 tablespoon of oil over medium-high heat. Season chicken with salt and pepper. Add chicken to saucepan; cook until done (about 6 minutes) turning once, then remove from pan.
Meanwhile, combine the flour and 1 tablespoon of stock in a bowl. Add the remaining oil to the pan over medium-high heat. Add the mushrooms; cook for 8 minutes. Stir in the thyme and garlic and cook for 1 further minute. Add the wine and cook until it reduces by half. Stir in the remaining remaining stock and bring to a simmer. Add noodles and cook uncovered until done (about 8 minutes). Stir in the flour mixture and cook for 1 minute. Remove from the heat, stir in the chicken, sour cream, and season with salt and pepper. Serve hot.
We've also got a great recipe for a totally gluten-free vegan pasta dish right here.